Interaction
This web offers some possibilities for participants at the conference to interact with each other before, during and after the conference. This offers us increased possibilities to profit from our interaction at the conference.
Log on
You first need to log on: You will have recieved a username and password by email:
==> Click here to log on
You can see that you are logged on by a dark gray line at the top of the window and your username in the far right corner.
What possibilities do we have?
A Wiki page for each session.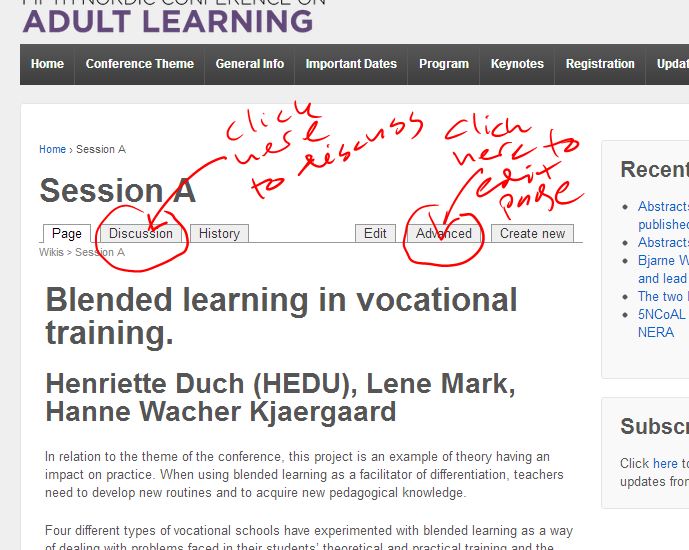 Each session has its own wiki page.  (A wiki is a collaborative web page where users can change the contents of a page at will). On each session-page we have already entered the presentation names, authors and abstracts, and presenters can add their papers and presentations and other media to the page.
Log in to the site
Click on Program > "Overview of paper sessions"
Click on your session
Click on the "Advanced" tab
Find your abstract
Scroll down to the word "Paper" under your abstract and highlight it.
Scroll up to the editing toolbar and click on "Add Media" and use the interface to upload your paper (drag and drop or browse for your paper)
Click on "Update" in order to save your modifications to the page.
Click on "View Page" towards the top of the page to see the results 😉
ALSO presenters and participants can start the discussion on issues concerning the session before the sessions and continue after the sessions under the "Tab" Discussions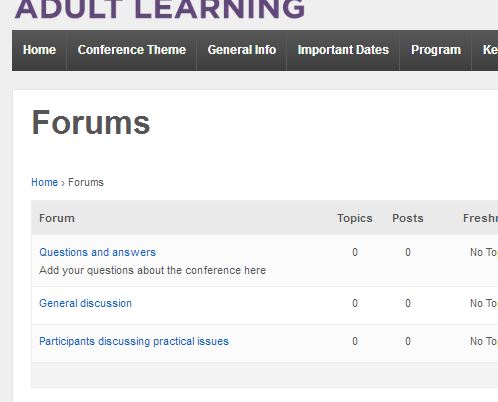 You will find a forum on the site so if you want to start discussions with the organizers or between participants this is also possible. This can be useful to get quick practical information, start a general discussion connected to any interesting theme you think others at the conference might be interested in e.t.c.
Profiles
Each user has his/her own profile. Your profile is the heart of all interactive system on the web. Here you can register basic information about yourself enabling users to realize who you are, and the profile can be used to help us keep in contact. So please add your photo and some necessary contact information which will enable participants at the conference to contact you at a later date.
==> Please check out our profile now and update it